WHAT IS BIOCOMP DAKOTA?
Swarm Adapted Trading Systems
---
BioComp Dakota enables you to create and use adaptive trading systems with 100% walk-forward out-of-sample performance evaluation. Dakota "steps-forward" one bar at a time, recalculating signals as though you were trading in real-life. Dakota's results show you the truth about your trading systems before and while trading them.
Create Adaptive Trading Systems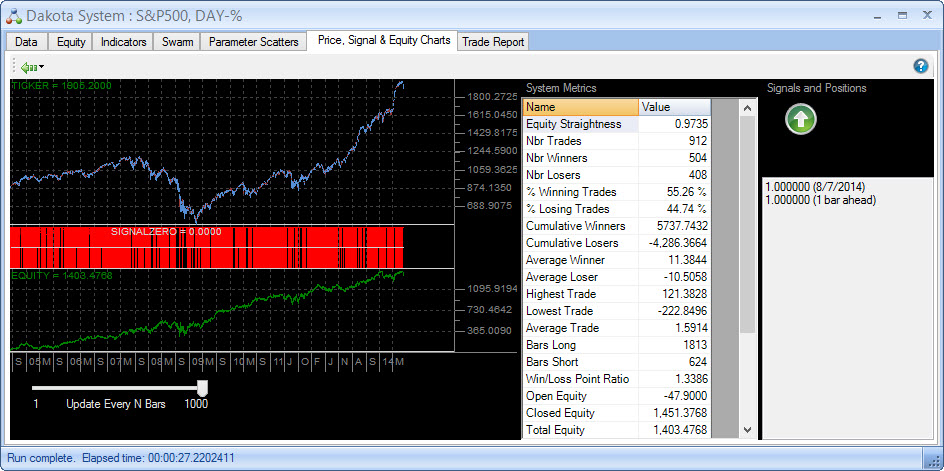 "Adapt or Die" they say. Perhaps the wording is a bit strong, but it's true, especially in the financial markets. What is driving the markets is constantly changing, shifting, moving about. A lot of systems start out performing well, however they don't change with the times and their performance erodes as a result. You need something in your arsenal of tools that adapts, shifts and tracks equity performance.
Why is Dakota Different?
BioComp Dakota uses "Swarm Technology"(tm) to adapt the parameters of programmed trading systems to shifting market conditions in an attempt to create and maintain Dakotaable market timing signals, that is, when to buy, sell or exit from the markets in a Dakotaable manner. Dakota uses Swarm adaptation technology, not optimization. You don't want Swarm Optimization which "jumps" from one set of trading system parameters to another, but adaptation, where the swarm tracks performance smoothly. Systems with Swarm Adaptation algorithms are rare as most Swarm Technologies are focused on ill-fated optimization.
Highly Customizable
Dakota enables you to create unique solutions through the many types of data you use, pre-processing, bot types, different forms of initialization, performance metrics, trading system parameter adaptation algorithms, how signals are merged from multiple instances of the selected trading systems, parallel swarms of trading systems and the ability to have parent-child swarms and the ability to move trading systems about between swarms. If you can program in Visual Basic or C# using Microsoft Visual Studio Express (Free from Microsoft) you can create your own customizations. The possiblities are literally endless.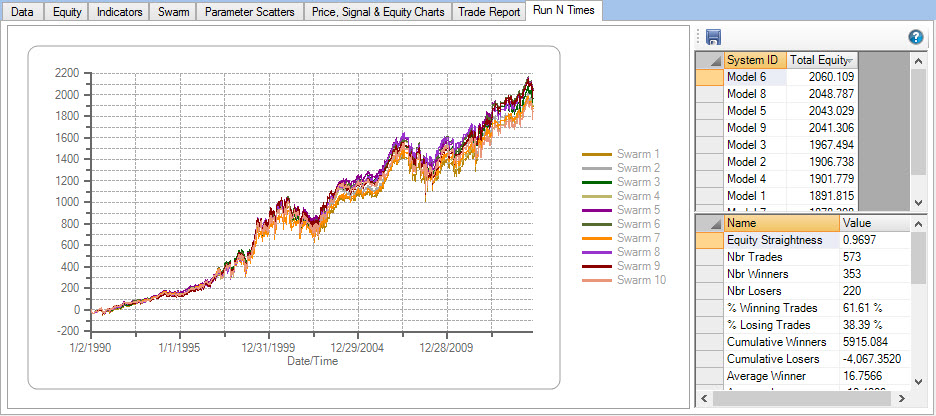 Robustness Verification
Various features enable you to check the robustness of your systems, including "Run N Times" for a walk-forward repeatability study and the "Ticker Bot Explorer" that enables you to see equity performance across a range of parameters to find sweet spots and avoid equity holes. Run N Times shows you the robustness of your system by re-walking it forward 10 times with different parameter initializations and a bit of randomness in the adaptation.