WHAT IS SYSTEM SEEKER?
A Trading System Generator for Dakota and NinjaTrader
---
BioComp "System Seeker" helps you find useful algorithms to put into bots for Dakota 3 as well as indicators and trading systems for NinjaTrader in a matter of seconds. Upload a data file, click a button and System Seeker will scan through 10's of thousands of alternative solutions with amazing speed looking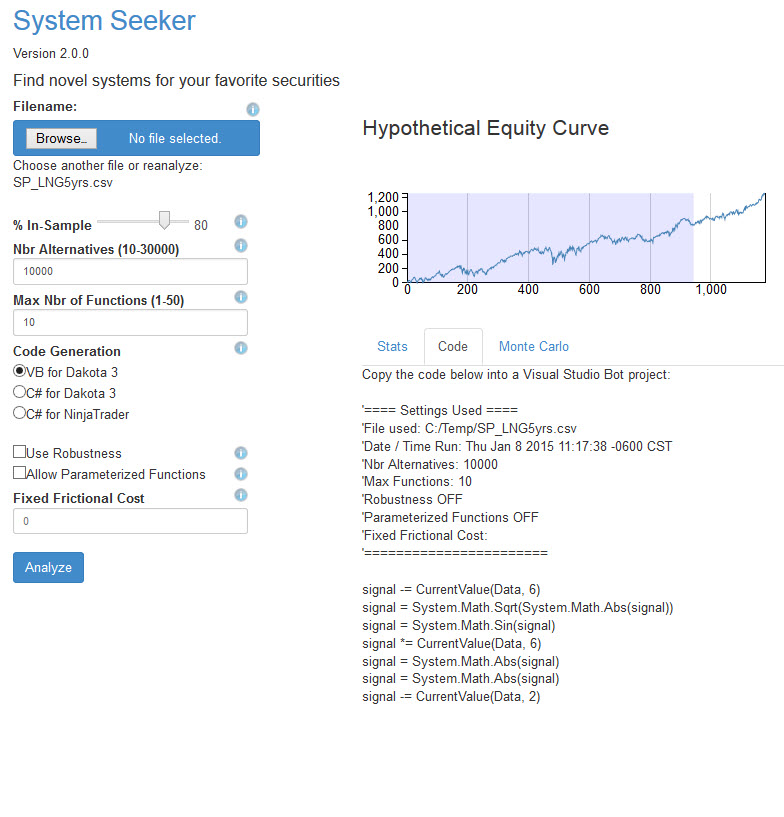 for the one with the smoothest upward trending equity curve. See in-sample and out-of-sample equity curves and statistics and get the source code to deploy in Dakota 3 using Visual Studio VB or C# or the C# code for NinjaTrader. Based on equity curve smoothness, not equity performance, the robustness is enhanced over alternative tools that search based on equity. By merely scanning alternatives in a Monte Carlo technique, "System Seeker" avoids problems of overfitting commonly found in "genetic programming" tools. Explore and find novel trading systems in seconds for most any security.
A Novel Way to Find Novel Systems
System Seeker is written in Google's Go programming language with provides us concurrent, parallel computing built right into the language. Go compiles to a 64 bit optimized binary which computes extremely fast. On top of that (literally) is a web browser interface. This enables you to install System Seeker on a fast box and access it across your network from a laptop or even a tablet.
A Lot of Control Yet Simple
System Seeker enables you to control the type of code generated, in and out of sample percentages, the number of alternative systems to evaluate, the complexity of those systems, robustness evaluations, parameterized functions (or not), which means having parameters to internal indicators such as moving averages and stochastics that Dakota can adapt or you can set in NinjaTrader. You can set a fixed trading cost which will slow down trading a bit (less frequent position changes) especially useful for forex.